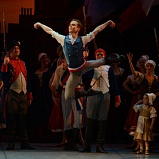 11.02.2015
An Evening with Leonid Sarafanov
The Mikhailovsky Theatre invites Friends Club to an evening with Leonid Sarafanov. One of the greatest ballet artists of our time, talent and charismatic principal of the Mikhailovsky Theatre — Leonid Sarafanov in a relaxed atmosphere will share with visitors the latest events his rich artistic life.
The evening will be held on February 25 at 19.30.
Please confirm your attendance by emailing the Friends Club Manager at: friends@mikhailovsky.ru.