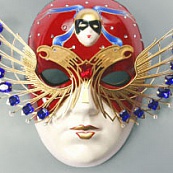 Apr. 02, 2012
Apr. 04, 2012

Moscow, Russia
The Mikhailovsky Theatre in Moscow
The Mikhailovsky Theatre will be on tour in Moscow as part of the Golden Mask Festival.
Moscow audiences will have the chance to see the opera
La Bohème
and Nacho Duato's one-act ballets
Prelude
,
Duende
and
Nunc Dimittis
— last season's outstanding premieres — as well as Nacho Duato's new version of
The Sleeping Beauty
, one of this winter's most intriguing events. The ballet premiered in St Petersburg on 16 December, but this will be the first performance of this sensational production in Moscow.
Muscovites well remember the success of last year's tour, and are looking forward to this opportunity of seeing new productions that have been highly rated by the professional community. Of the five productions that the Mikhailovsky Theatre will be bringing to Moscow, three from the 2010/2011 season have been nominated for a Golden Mask across 11 categories.
La Bohème
has been shortlisted for the national theatre award in eight categories, including 'Best Opera Production'. Peter Feranec has been nominated for Best Conductor, and Arnaud Bernard has been shortlisted three times: for Best Opera Director, Best Musical Theatre Designer and Best Lighting Artist. Olga Tolkmit has been nominated in the 'Best Female Role in Opera' category for her performance as Mimi. It is worth mentioning that the young singer was still a student when she first sang the lead in
La Bohème
— she was awarded her degree at the St Petersburg Conservatory only a month after the premiere. Another of the production's cast — Boris Pinkhasovich, who plays the part of Marcello — has been nominated for a Golden Mask in the 'Best Male Role in Opera' category. Carla Ricotti, the production's costume designer, has also been shortlisted for a prize.
La Bohème
is one of the leading productions in terms of the number of nominations.
Nacho Duato's name appears three times in the ballet nominations. His
Prelude
and
Duende
have been nominated for 'Best Ballet Production', And the Mikhailovsky Ballet's Artistic Director has also been shortlisted for the Golden Mask as 'Best Ballet Master/Choreographer' for
Prelude
.
The performances will take place at
the Stanislavsky and Nemirovich-Danchenko Musical Theatre
: