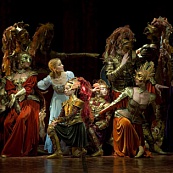 Dec. 02, 2010
Jan. 17, 2011

Japan
The Mikhailovsky Ballet Japan Tour
In winter 2010/11 the Mikhailovsky Ballet Company is heading to Japan. Th tour will mark the 30th anniversary of the cooperation with the production management company Koransha.
The Mikhailovsky Ballet has had tours to Japan since 1981. The forthcoming ballet season in Japan will start on 2 December 2010 and finish on 17 January 2011. The company will visit Tokyo, Osaka and other cities of the country and will present the ballets
The
Nutcracker
,
Giselle
,
Don Quixote
, and
Swan Lake
. The mesmerizing Farukh Ruzimatov will appear in
Giselle
,
Don Quixote
, and
Swan Lake
. To celebrate the anniversary on the best stage in Tokyo — Bunka Kaikan — the Mikhailovsky Theatre will present the new production of
Romeo and Juliet
choreographed by Oleg Vinogradov. It's the ballet (in the earlier version by Oleg Vinogradov) was shown in Japan 30 years ago.
The tour includes the concerts by Mikhailovsky Symphonic Orchestra and a special Christmas present: The Evening of the Waltzes featuring the Mikhailovsky Orchestra and Opera soloists.
Ballet
December 2010
4 / Sat 17:00
The Nutcracker
Tochigi
Tochigiken Sogo Bunka Center
5 / Sun 17:00


Gunma
Gunma Kenmin Kaikan
8 / Wed 18:30
Romeo and Juliete
Tokyo
Tokyo Bunka Kaikan
9 / Thu 18:30


Tokyo
Tokyo Bunka Kaikan
11 / Sat 15:00
The Nutcracker
Chiba
Chibaken Bunka Kaikan
12 / Sun 15:00


Tokyo
Parthenon Tama
14 / Tue 16:00


Chiba
Seitoku Gakuen Kawnami Kinen Kodo
15 / Wed 18:30


Niigata
Niigata Kenmin Kaikan
16 / Thu 18:30


Tokyo
Nerima Bunka Center
18 / Sat 13:30


Kanagawa
Green-Hall Sagami Ono
19 / Sun 15:00


Shizuoka
Shizuoka Shimin Bunka Kaikan
20 / Mon 18:30


Shizuoka
Act-City Hamamatsu
23 / Thu 12:30


Tokyo
Tokyo Kokusai Forum Hall A
23 / Thu 16:30


Tokyo
Tokyo Kokusai Forum Hall A
24 / Fri 18:30


Kanagawa
Kanagawa Kenmin Hall
25 / Sat 12:30


Tokyo
Tokyo Kokusai Forum Hall A
26 / Sun 18:30
Swan Lake
Kanagawa
Kamakura Geijutsukan
27 / Mon 18:30
Giselle
Tokyo
Bunkamura Orchard Hall
28 / Tue 18:30


Tokyo
Bunkamura Orchard Hall






January 2011
2 / Sun 15:00
Swan Lake
Saitama
Omiya Sonic City
4 / Tue 12:00
Tokyo
Tokyo Kokusai Forum Hall A

4 / Tue 17:00
Tokyo
Tokyo Kokusai Forum Hall A
6 / Thu 18:30
Don Quixote
Tokyo
Bunkamura Orchard Hall
7 / Fri 18:30
Tokyo
Bunkamura Orchard Hall
8 / Sat 13:00
Swan Lake
Tokyo
Tokyo Kokusai Forum Hall A
9 / Sun 13:00
Tokyo
Tokyo Kokusai Forum Hall A
10 / Mon 16:00
Miyagi
Miyagi Kenmin Kaikan
12 / Wed 18:30
Don Quixote
Nagano
Matsumoto Shimin Geijutsukan
14 / Fri 18:30
Swan Lake
Aichi
Aichiken Geijutsu Gekijo
15 / Sat 15:00
Giselle
Hyogo
Hyogoken Geijutsu Bunka Center
16 / Sun 15:00
Swan Lake
Hyogo
Hyogoken Geijutsu Bunka Center
Orchestra
December 2010
18 / Sat 16:00
Christmas Special Classics
Tokyo
Bunkamura Orchard Hall
19 / Sun 14:00


Tokyo
Bunkamura Orchard Hall
24 / Fri 19:00
Kanagawa
Yokohama Minato Mirai Hall
25 / Sat 18:30


Tokyo
Tokyo Kokusai Forum Hall A
29 / Wed 14:00
Beethoven Symphony No. 9
Tokyo
Bunkamura Orchard Hall
30 / Thu 14:00


Tokyo
Tokyo Opera City Concert Hall






January 2011
3 / Mon 14:00
New Year Concert
Tokyo
Tokyo Kokusai Forum Hall A