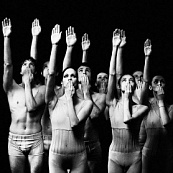 Sep. 30, 2015
Oct. 01, 2015

Lausanne, Switzerland
Mikhailovsky Theatre ballet to perform in Switzerland
The Mikhailovsky Theatre ballet company will visit Switzerland for the first time in its history this autumn. The performances will take place in Lausanne, a city known for its ballet traditions: this has been the home of Maurice Béjart's Béjart Ballet Lausanne since 1987, though the company began performing regularly at the city's Théâtre de Beaulieu even earlier, in the mid-1960s.
The Mikhailovsky Theatre will present works choreographed by Nacho Duato. Over the course of two evenings, 30 September and 1 October, a programme of three one-act ballets will be performed: Without Words, Duende and Nunc Dimittis.
The tour has been organized with the support of the Honorary Consulate of the Russian Federation in Lausanne.